Kia Cee'd: Windshield Wiper/Washer / Rain Sensor Description and operation
The Rain sensing windshield wiper system is a wiper system that, in addition to providing normal wiper functions off, mist, manual low speed, manual high speed, and wash, provides automatic control of automatic intermittent automatic low, and automatic high speeds.
When the ignition key is in the ON position, the rain sensor will be activated.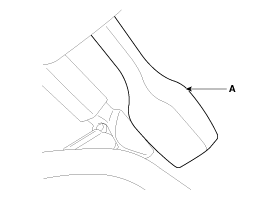 Basic Principle
Emitted Beam from luminosity diode is reflected entirely against the windshield exterior, and then turn into photo diode.
If there is water on the windshield exterior, beam seperates optically, and the degree of remained beam is measured in the photo diode.
What there is water in the windshield, it means beam is not reflected all, so the degree of lost beam indicates the degree of glass surface wet.
Rainsensor consist of two luminosity diode, two photo diode, optic fiber and coupling pad.
Operation Control
Wiper ECU transmits the signal as a rainsesor, and then the rainsensor perceives the rainwater to transmit to the wiping order wiper ECU, wiper ECU controls the wiper motor according to the signal.
Contact Influence
The rainsensor can malfunction due to following condition
| | |
| --- | --- |
| • | Contamination of the measurement surface. |
| | |
| --- | --- |
| • | Air bubbles between the windshield and the coupling pad contact surface. |
| | |
| --- | --- |
| • | The movement of coupling pad by vibration. |
Operation Condition
In case that engine starts under wiper switch AUTO, rainsensor activates after once wiper operaion to inform the driver that the system is under AUTO.
In case that the rainsensor doesn't work or malfunction, it is needed manual wiper switch operation by the driver.