Kia Cee'd: Bluetooth® Wireless Technology Audio Mode / Call History
Press the

key Select [Call History]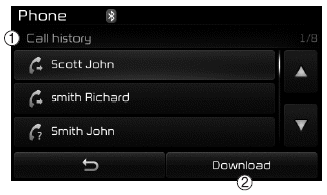 A list of incoming, outgoing and missed calls is displayed.
Press the [Download] button to download the call history.
(1) Call History :
- Displays recent calls (call history)
- Connects call upon selection
(2) Download : Download Recent Call History
✽ NOTICE
The call history list will display up to 50 outgoing, incoming, and missed calls.
Upon downloading call histories, previously saved histories are deleted.
Incoming calls with hidden caller IDs will not be saved in the call history list.
Previously saved phone book entries are stored even if a device is disconnected and re-connected.
The download feature may not be supported in some mobile phones. Check to see that the Bluetooth® Wireless Technology device supports the download feature.