Kia Cee'd: Mp3 CD Mode / Using MP3 CD Mode
Playing/Pausing MP3 Files
Once an MP3 disc is inserted the mode will automatically start and being playing.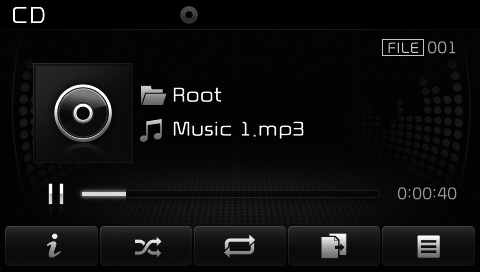 While playing, press the

button to pause and press

button to play.
✽ NOTICE
If there are numerous files and folders within the disc, reading time could take more than 10 seconds and the list may not be displayed or song searches may not operate. Once loading is complete, try again.
Changing Files
Press the

key to move to the previous or next file.
✽ NOTICE
Pressing the key after the file has been playing for 2 seconds will start the current file from the beginning.
Pressing the key before the file has been playing for 1 second will start the previous file.