Kia Cee'd: My Music Mode / List Menu
From the List screen, it is possible to delete files you previously saved into My Music.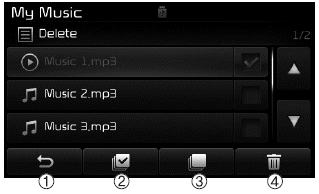 Press the

button or individually select the files you want to delete. Once files are selected, the

button and

buttons will be enabled.
(1)

: Moves to the previous screen
(2) Select All : Selects all files
(3) Unselect All : Deselects all selected files
(4) Delete : Deletes selected files
After selecting the files you want to delete, press the

button to delete the selected files.
✽ NOTICE
If there is memory available, up to 6,000 files can be saved.
Identical files cannot be copied more than 1,000 times.
To check memory information, go to [System] [Memory Information]