Kia Cee'd: Front light replacement / Headlight (Low, Non-HID Type)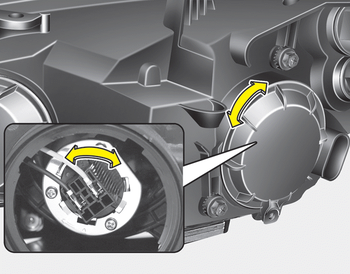 Follow the steps 1 to 7 from the previous page.
8. Remove the cover by turning it counterclockwise.
9. Remove the socket from the assembly by turning the socket counterclockwise until the tabs on the socket align with the slots on the assembly.
10. Pull the bulb out of the socket.
11. Insert a new bulb into the socket.
12. Install the socket in the assembly by aligning the tabs on the socket with the slots in the assembly. Push the socket into the assembly and turn the socket clockwise.
13. Install the headlight bulb cover by turning it clockwise.
✽ NOTICE
We recommend that the headlight aiming be adjusted after an accident or after the headlight assembly is reinstalled at an authorized Kia dealer.