Kia Cee'd: ISG (Idle Stop and Go) system / Condition of ISG system operation
The ISG system will operate under the following condition:
- The driver's seat belt is fastened.
- The driver's door and engine hood are closed.
- The brake vaccum pressure is adequate.
- The battery is sufficiently charged.
- The outside temperature is between -2°C to 35°C (28.4°F to 95°F).
- The engine coolant temperature is not too low.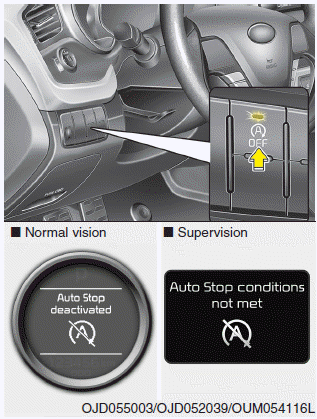 ✽ NOTICE
If the ISG system does not meet the operation condition, the ISG system is deactivated. The light on the ISG OFF button will illuminate and a message "Auto Stop Deactivated" or " Auto Stop conditions not met" will appear on the LCD display.
If the light or notice comes on continuously, please check the operation condition.