Kia Cee'd: iPod® Mode / Category Menu
Within the iPod® Category menu, you will have access to the

,

,

and features.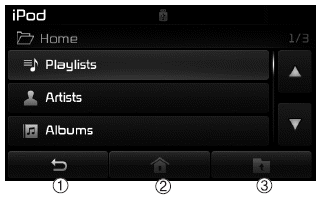 (1)

: Displays the play screen
(2)

: Moves to the iPod® root category screen
(3)

: Moves to the previous category
✽ NOTICE
If the search mode is accessed while playing a song, the most recently searched category is displayed.
Search steps upon initial connection may differ depending on the type of iPod® device.